Colorado Community Health Alliance (CCHA) was founded in 2010 specifically to meet the needs of Health First Colorado (Colorado's Medicaid Program) members. CCHA combines the extensive resources of Elevance Health, Centura Health, Physician Health Partners and Primary Physician Partners. Our partnership brings an influential blend of primary care providers, specialists, hospitals, behavioral health services and medical/behavioral health management services to drive innovation within the Medicaid delivery system.
Elevance Health – an accredited NCQA Managed Behavioral Healthcare Organization that manages Medicaid behavioral health programs
Centura Health – the largest health system in Colorado
Physician Health Partners – a local primary care focused management services organization
Primary Physician Partners – an Independent Practice Association with more than 200 primary care physicians
As a united entity, we operate with a mutual goal to expand access to needed services, promote a more coordinated system of care, avoid duplication of services, improve quality of care and outcomes, and reduce costs.
To achieve this, it is critical that we promote collaborative relationships among the health neighborhood, bringing together broad sectors of the community that touch the lives of Health First Colorado members. Our established partnerships provide a solid foundation to address all aspects of a member's health and well-being.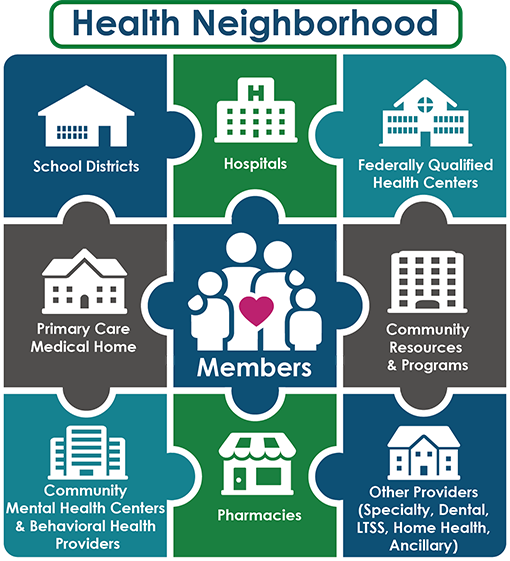 If you need the information on this page in another format, please contact CCHA Member Support Services.
The information will be provided in paper form free of charge within 5 business days.
We can connect you to language services or help you find a provider with ADA accommodations.
If you are having a medical or mental health emergency, call 911 or go to your nearest hospital-based ER.
If you are having a mental health or substance use crisis, call Colorado Crisis Services at 1-844-493-8255.