CCHA Care Coordinators Are an Extension of Your Health Team
Colorado Community Health Alliance (CCHA) coordinates the care and services for Health First Colorado (Colorado's Medicaid Program) members. Our goal is to help you get the most from your health care and live a healthy life. CCHA care coordinators work together with you, your primary care provider, and your family members/caregivers. As part of your health team, CCHA care coordinators learn about your needs and help create a plan to get you on track.
Who are the CCHA care coordinators?
Registered nurses
Social workers and behavioral health coordinators
Peer support specialists
Community resource specialists
How can they help?
CCHA care coordinators can help you navigate the health care system and connect you with medical and non-medical services. They can help you:
Understand Health First Colorado benefits
Find a primary care doctor, behavioral health provider or specialist
Coordinate physical and behavioral health, dental, vision, home health, and long-term care needs
Connect with community resources
Enroll in programs to help manage chronic conditions, like diabetes
Our services are available to you if:
You are enrolled in Health First Colorado
Your PCP's office is in one of these counties: Boulder, Broomfield, Clear Creek, El Paso, Gilpin, Jefferson, Park or Teller
Services are included with your Health First Colorado benefits, so there is no extra cost for you.
To connect with a care coordinator, contact CCHA Member Support Services.
Interactive texting is a great way to connect with your care coordinator when a phone call may not be necessary or convenient. Our care coordinators can provide you with resources or quickly answer your questions via text message.
To connect, text your care coordinator's keyword to 20121. If you do not know your care coordinator's keyword or do not have a care coordinator, contact CCHA Member Support Services.
We know there are often things in everyday life that affect your health and well-being. CCHA care coordinators can help you find community resources and government assistance programs. They can also work together with you to fill out applications or other paperwork.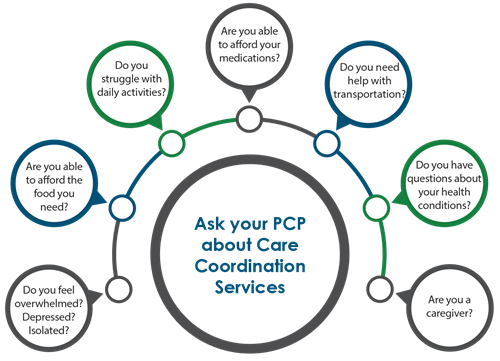 If you need the information on this page in another format, please contact CCHA Member Support Services.
The information will be provided in paper form free of charge within 5 business days.
We can connect you to language services or help you find a provider with ADA accommodations.
If you are having a medical or mental health emergency, call 911 or go to your nearest hospital-based ER.
If you are having a mental health or substance use crisis, call Colorado Crisis Services at 1-844-493-8255.