Extra Support for Children, Youth and Pregnant Individuals
Colorado Community Health Alliance is here to help children, youth and pregnant individuals get what they need to be healthy.
Routine well-child visits are one of the best ways to protect your child's health and well-being. Attending routine appointments allows you to build a relationship with your child's entire care team – making your child's experience more pleasant. Your child's primary care provider (PCP) should be where you start for questions about your child's health. Their job is to keep your child as healthy as possible.
Through the Early and Periodic Screening, Diagnostic and Treatment (EPSDT) benefits, children, youth and pregnant individuals may get extra benefits not normally covered by Health First Colorado (Colorado's Medicaid Program).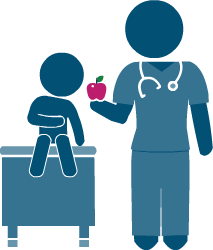 The EPSDT benefit covers medically necessary services such as screening, diagnostic and treatment services. These may include preventive care, dental, mental health, developmental and specialty services.
Early: Assessing and identifying problems early
Periodic: Checking children's health at periodic, age-appropriate intervals
Screening: Providing physical, mental, developmental, dental, hearing, vision, and other screening tests to detect potential problems
Diagnostic: Performing diagnostic tests to follow up when a risk is identified, and
Treatment: Control, correct or ameliorate health problems found.
The EPSDT benefit is for Health First Colorado members age 20 and under and pregnant individuals.
Services recommended by a provider and approved by Health First Colorado are medically necessary. All requests are determined on a case-by-case basis by Health First Colorado.
EPSDT is made up of screening, diagnostic, and treatment services. Below is a summary of those services. If you have questions about what your child may qualify for under EPSDT, we are here to help. Contact our Member Support Team.
Screening Services
Comprehensive health and developmental history
Comprehensive unclothed physical exam
Appropriate immunizations (according to the Advisory Committee on Immunization Practices)
Laboratory tests
Health Education (including child development, healthy lifestyles, and accident and disease prevention)
Vision Services
At a minimum, diagnosis and treatment for defects in vision, including eyeglasses.
Dental Services
At a minimum, dental services include relief of pain and infections, restoration of teeth, and maintenance of dental health, including examinations, cleanings and fluoride treatments.
Hearing Services
At a minimum, diagnosis and treatment for defects in hearing, including hearing aids.
Other Necessary Health Care Services
Additional health care services may be covered if found to be medically necessary to treat, correct or ameliorate illnesses and conditions discovered. It is the responsibility of the Department of Health Care Policy and Financing, the state agency that oversees Health First Colorado, to determine medical necessity on a case-by-case basis.
Diagnostic Services
When a screening indicates the need for further evaluation, diagnostic services are provided.
Treatment
Necessary health care services are available for treatment of all physical and mental illnesses or conditions discovered by any screening and diagnostic procedures.
Lead Screening
Lead screening is a requirement for all children enrolled in Health First Colorado at 12 and 24 months or between the ages of 36 and 72 months if not previously tested.
Services are available at no cost to a member when covered by the EPSDT benefit.
Those who qualify for services under EPSDT can receive care and services from any health care provider who accepts Health First Colorado.
CCHA can help you get connected to a primary care, behavioral health or specialty care provider. Contact our Member Support Team.
Routine well-child visits are one of the best ways to protect your child's health and well-being. Well-child visits are free as part of your child's Health First Colorado benefit.
A well-child visit is a comprehensive exam that includes:
Assessment of growth, development and behavior
Age-appropriate screenings and any needed lab tests
Recommended immunizations
Referral to specialists, if needed
Consultation time with your provider for questions and concerns
Advice and tips on ways to help keep your child healthy
Your Health First Colorado benefits cover well-child visits at the following points in time from birth to age 20. Health First Colorado recommends following the American Academy of Pediatrics Bright Futures Periodicity schedule for your child's visits. Your provider may recommend more visits.
All well-child visits are covered by Health First Colorado and there is no cost to you.
Below is a summary of visits your child should have:
3 to 5 days after birth (if the baby leaves the hospital less than 48 hours after delivery)
1 month
2 months
4 months
6 months
9 months
1 year
15 months
18 months
2 years
30 months
All children 3-20 years should visit their primary care provider once a year.
Call your primary care provider's office today and schedule an appointment.
Call CCHA if you need help:
Finding a primary care provider for your child
Scheduling the well-child exam
Getting an appointment
Arrange for transportation to and from appointments at no cost to you
Health First Colorado (Colorado's Medicaid Program) members who do not have transportation can ask for a ride to and from their health care appointments. Learn more about how to request transportation here.
If you need the information on this page in another format, please contact CCHA Member Support Services.
The information will be provided in paper form free of charge within 5 business days.
We can connect you to language services or help you find a provider with ADA accommodations.
If you are having a medical or mental health emergency, call 911 or go to your nearest hospital-based ER.
If you are having a mental health or substance use crisis, call Colorado Crisis Services at 1-844-493-8255.