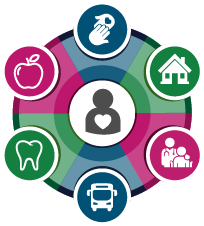 Learn about Health First Colorado and other resources to help you live a healthy life.
Your Health First Colorado Regional Organization
As a Health First Colorado (Colorado's Medicaid Program) member, you have a regional organization that helps coordinate your physical and behavioral health care as well as other services.
Colorado Community Health Alliance (CCHA) is your regional organization if you get primary care in any of these counties: Boulder, Broomfield, Clear Creek, El Paso, Gilpin, Jefferson, Park or Teller.
CCHA services are part of your Health First Colorado benefits, so there is no cost to you.
CCHA can help you:
Find primary care, behavioral health and dental providers who are a good fit for you
Connect you with the right resources and services to meet your personal needs, including:

Transportation
Food, shelter and clothing
Long-term care
Baby supplies and childcare services
Employment
Translation services for health care appointments
And more!

Your Health First Colorado benefits include:
Behavioral health and substance use disorder services
Dental services
Durable medical equipment
Family planning services
Hospitalization and emergency services
Laboratory services
Maternity and newborn care
Pharmacy benefits, including mail order
Physical, occupational and speech therapy
Preventive and wellness services
Provider visits
Vision services
And more
Copays
For some services, you may have a copay. The amount could be between $2 and $10 per visit or service.
Some members do not have copays. This includes:
Children 18 years old and younger
Women in the maternity cycle up to six weeks after delivery
Members who live in a nursing home or get hospice care
American Indians or Alaska Natives
Former foster care children ages 18 through 26 years old for medical services
Members enrolled in the Breast and Cervical Cancer Program
To learn more about your benefits and copays, call CCHA Member Support Services or go to HealthFirstColorado.com/benefits-services

Your primary care provider (PCP) is your main contact for all your health care needs and may be a doctor, nurse practitioner or physician assistant. Your PCP can help coordinate a referral to see a behavioral health provider or specialist, if needed. To find a PCP, contact CCHA or visit CCHAcares.com/findadoc.
Tips for Your Appointments
TIP 1: Contact CCHA before your appointment if you need help getting to your appointment or need an interpreter.
TIP 2: Arrive early in case you need to fill out paperwork.
TIP 3: Bring your Health First Colorado ID.
TIP 4: Bring a list of all your medications including vitamins and supplements.
TIP 5: Ask questions during your visit. You may want to bring a family member or friend to help ask questions and remember answers.

Are you feeling sad or anxious? Are you drinking too much alcohol or using drugs? If these issues make it hard to work or go to school, you may benefit from behavioral health and substance use disorder services. These services can help with your emotional, mental and social well-being.
Here are some types of providers you may see and services you may qualify for:
Alcohol and drug screening, counseling and treatment *
Behavioral Health Evaluations *Psychiatrists
Emergency and Crisis Services
Inpatient Psychiatric Services *
Intensive Outpatient *
Medication Assisted Treatment *
Medication Management *
Mental Health screening, counseling, and treatment *
Partial Hospitalization *
Psychiatric Residential *
Benefits with a star (*) may need prior approval. There are no copays for behavioral health services.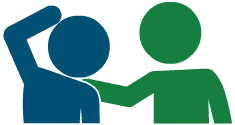 You can get dental services such as cleanings, fillings, root canals, crowns, partial dentures and others. Children under 21 years of age can also receive preventive services including exams, cleanings, X-rays, sealants, space maintainers, fluoride treatments and more.
There are no copays for dental services.
For adults, the annual benefit covers each member up to $1,500 from July 1 through June 30.
Emergency services and dentures benefits do not have a limit.
Orthodontia services are not covered for adults but are covered for children when medically necessary.

If you do not have transportation, CCHA can help get you a ride to and from appointments for physical health, behavioral health and dental services. Transportation may be provided at no cost to you.
Transportation options:
Public transportation
Private vehicle or taxi
Wheelchair or stretcher van
Mileage reimbursement
Other options may also be available
This transportation benefit is only for appointments with Health First Colorado providers. Transportation is not covered for picking up prescriptions or medical equipment, or for completing interviews and paperwork.
When you need care right away but it is not serious or life threatening, you have options.
Your best option – Primary Care Provider
Treatment of urgent AND long-term health needs
Appointments for urgent visits
Available by phone 24/7 for advice
Your next best option – Urgent Care Center
Treatment of urgent needs
Drop in appointments may be available
Many open nights and weekends – some 24/7
Getting care in the emergency room when it is not an emergency may cost you $6 per visit. Call 911 or go to a hospital-based emergency room if you have a life or limb threatening situation.

As a Health First Colorado member, you expect the best with your health care. If you have a complaint or want to appeal a decision about your health care services, CCHA can help.
If you would like to file a complaint (also known as a grievance) or an appeal, contact CCHA Member Support Services or visit CCHAcares.com/appeals.


If you need the information on this page in another format, please contact CCHA Member Support Services.
The information will be provided in paper form free of charge within 5 business days.
We can connect you to language services or help you find a provider with ADA accommodations.
If you are having a medical or mental health emergency, call 911 or go to your nearest hospital-based ER.
If you are having a mental health or substance use crisis, call Colorado Crisis Services at 1-844-493-8255.